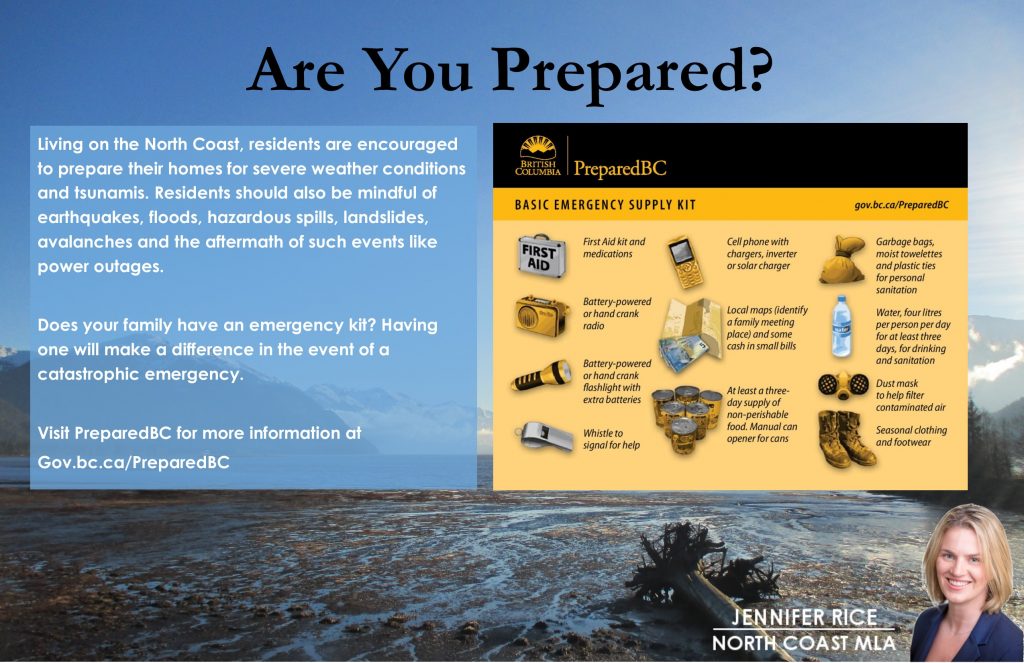 Living on the North Coast, residents are encouraged to prepare their homes for severe weather conditions and tsunamis. Residents should also be mindful of earthquakes, floods, hazardous spills, landslides, avalanches and the aftermath of such events like power outages.
Does your family have an emergency kit? Having one will make a difference in the event of a catastrophic emergency.
PreparedBC is an excellent resources for individuals, families and neighbourhoods who want to be prepared in the face of a catastrophic event.
Prepared BC website: https://tinyurl.com/z9kpuzt
Household Preparedness Guide: https://tinyurl.com/hevk2e3
Household Emergency Plan: https://tinyurl.com/ydxeu99k
Guide for Small Businesses: https://tinyurl.com/y7ce3k6h
Guide for Tourism Operators: https://tinyurl.com/yce2orwx
In It Together: Neighbourhood Preparedness: https://tinyurl.com/ycwhee24
Build an Emergency Kit: https://tinyurl.com/gnmrspo