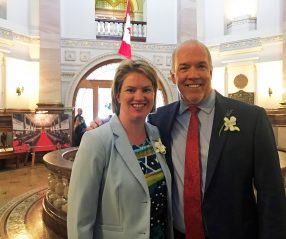 Welcome to your North Coast Community Website
As your North Coast MLA I work hard to represent our current and evolving North Coast needs. I welcome your input in my local office, by phone or by email.
With proud service,
Jennifer Rice
Click on the News tab to get the most up-to-date information!
Learn More
Latest News
Jennifer Rice Explore Jennifer Rice's 510 photos on Flickr!
Housing has been a longstanding issue on Haida Gwaii and I'm proud of the strong commitment put forth by both the Village of Queen Charlotteleadership and the Queen Charlotte Heritage Housing Society. Our government has been working hard to address …
Fantastic to see the Canadian Forces lending a hand in Grand Forks today. It's a really trying time for folks right now but people pull together in amazing ways. We're in it together.